Making a Difference (Our 2019/2020 Beneficiaries)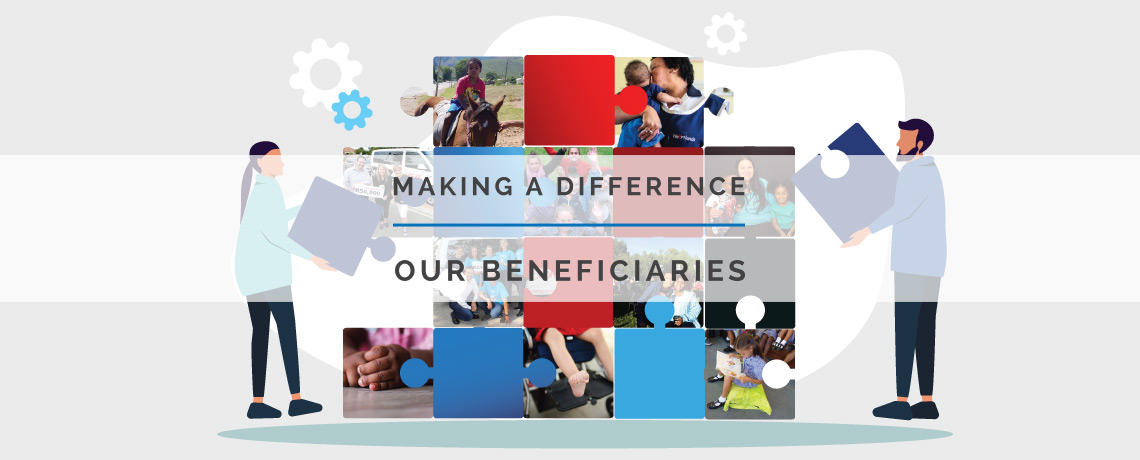 Sylvia's House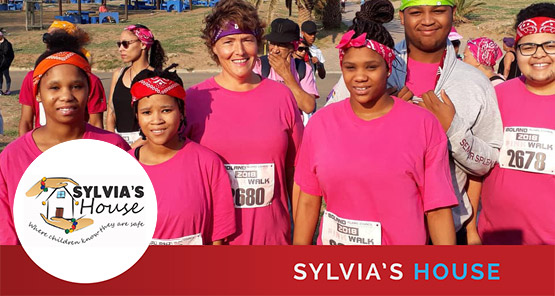 Sylvia's House has been a safe haven to a multitude of children over the past twenty years, and continues to be. D4D is thankful to have been part of their story for the last eleven years. Sylvia provides a family orientated home of healing for either abandoned or abused children of all ages. Their main goal and top priorities will always remain, love, shelter, hope, provision and education.
Over eighty children have walked through the door of Sylvia's House. Some remained for longer periods of time than others, waiting till their parents are rehabilitated or in other cases adoptive parents were found. It is wonderful to be able to report that most have moved on to new, loving families or restored homes, once they have healed. While Sylvia is a safety parent, she is first and foremost a mom to nine children whom she is permanently raising. She has adopted two of the children and the other seven are in legal foster care.
As is the heartbreaking reality for far too many of today's youth, four of the children were abandoned at birth and three removed from abusive circumstances.
Sylvia is passionate about uplifting those in her care to their full potential, whilst providing a place to call home, therapy and support in which ever way the child in need may require. Her main aim remains to supply a family environment with the same morals, emotional and physical stability, educational prospects and opportunities as most other children are blessed with.
Her mission aligns with that of D4D in that we hope that these children will grow into adults and members of society whom can positively contribute and in return better the lives of others.
Sylvia's dream is not to only clothe and feed the children placed in her care, but to love them and encourage every chance of growth, just as she would for her own children.
D4D presently supports Sylvia's House with a monthly donation of R4,500, since there are currently only three children under the age of 19 in her care. These funds are specifically allocated towards educational purposes and other operational costs.
Tzadokah Foster Home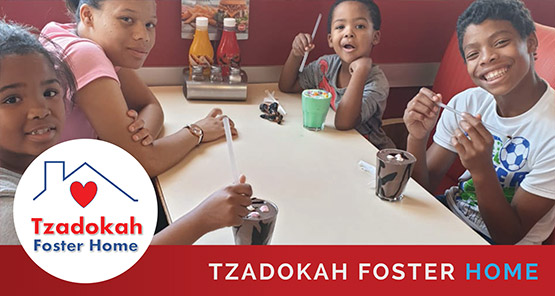 D4D has had the privilege of being involved with Tzadokah Foster Home since 2005.
This was the first foster home we supported and one we still support up to this day.
Tina Burger has been Tzadokah's foster mom since 2009. It is with a deep gratitude that we witness all that Tina and her husband, Schalk Burger, does for the children. Selflessly devoting all their energy, time and more to those in their care, who ranges in ages from six to nineteen. Although there is quite a big age gap between the children, they all hold a deep respect for Tina and Schalk and the way that they are raising them. There is no doubt that the children love and adore their "parents," as if they were their biological sons and daughters.
Sometime during 2019 it was brought to Tina's attention that the youngest girl in the house was struggling to keep up and properly read, especially in class. The school teacher advised that an appointment should be made with an optometrist. It was then found that her eye sight was extremely poor and the optometrist recommended that it would be ideal for her to get glasses, as soon as possible. D4D's board of directors decided to cover all the involved costs, in other words, the eye test and a pair of brand-new glasses. This was such a blessing to her. As many others might be able to sympathize with her, she was completely blown away by how much clearer she could see once receiving the glasses.
One of the young boys at Tzadokah Foster Home suffers from fetal alcohol syndrome; as a result, he has great difficulties in keeping up in school. Even though he is now sixteen years old, he is still unable to read competently. D4D has been able to support, in enrolling him at the Tina Cowley Reading Centre, where he receives additional help with his reading capabilities.
D4D's continued donation of R6,000 a month mainly contribute towards educational expenses, which is a cause that will always remain a focus point for D4D.
Esther van Zyl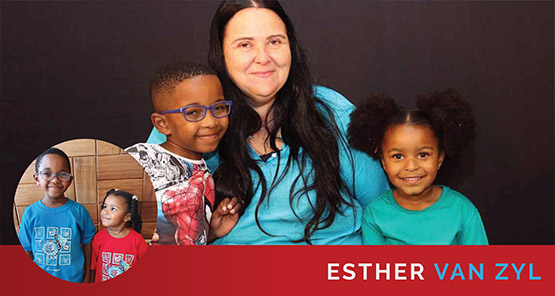 Another foster mom, whom D4D is supporting and who is really close to our hearts, is Esther van Zyl. Her home is also a registered place of safety. At the time of writing this report, she has two children under her care. The eldest, a boy aged 9, was found in an informal settlement in Langa, at the fragile age of 1. He was diagnosed as being HIV positive, while also suffering from separation anxiety, which is a direct result of his early childhood trauma. The youngest of the house, a pure bundle of joy, is aged 4. She was a mere 24 hours old when Esther was contacted by the police, looking for a place of safety for the new-born baby they found in a park close to Esther's house. Four days later she was home, safe and sound, with her new mom. This little girl is thriving from the attention she is receiving from her mom and her big brother. These two little ones have found the only mom they ever knew in Esther, and she has given them a home filled with love and devotion.
In June of 2020, D4D made a donation of R7,000, which was specifically allocated towards buying winter clothes and school supplies for the two children. This particular donation was made possible by the funds raised during the MATH fundraiser, of which you will read later on in the report, under the heading; "Fundraising Initiatives."
That same month, June 2020, Esther van Zyl was contacted by a social worker, calling on her to know whether she would consider caring for an abandoned baby, desperately in need of a place of safety and love. This little one was deserted and forsaken by her mom, outside of the hospital, shortly after she gave birth. At first Esther was concerned that she would not have the financial means, required by another child, to care for her indefinitely, and rightly so. But Esther took the leap of faith, and also contacted D4D in the hopes that we might be able to help. D4D eagerly donated R3,000, which enabled Esther to purchase the essential things needed to care for a newborn, amongst others; milk, bottles and nappies. After four wonderful weeks of staying with Esther and her two lovely children, in a home with no deficiency of love and care, forever parents were found for the precious baby and the adoption process begun.
D4D continues to support Esther van Zyl with a payment of R3,000 per month. This money goes a long way in ensuring that she can provide the children with a healthy diet, meet their school supply needs and cover their medical expenses. It is a major honour to serve the Lord alongside such an inspiring family.
A thank you letter from Esther van Zyl – 1 September 2020:
To all at Distance for Difference
Good morning
It is with an overwhelming feeling of gratitude that I write this email this morning. It is safe to say that D4D literally saved our lives and livelihood during the lockdown period and therefore I would just like to give a sincere and heartfelt thank you.
I try to do most of my work from home, because Sanele has severe separation anxiety and rejection issues, even at the age of nine, because of all the abuse he endured as a baby and toddler. I have a home baking enterprise, as well as running the tuck-shop at their school. When the lockdown started things looked very bleak for us, since both businesses were not allowed to operate, thus leaving me without an income. By the grace of God, we made it through because of the money that was donated to us by D4D. I truly believe that you don't have any idea what a HUGE impact your donations have made in our lives. Words can never express how thankful I am. I am especially grateful for the way Tacia cares and makes myself and the children feel loved and wanted.
Fortunately, business is slowly returning to normal and I can breathe once again. I pray that one day I will be able to pay forward this great kindness.
May God continue to bless this organization and may it grow and prosper to serve thousands more children.
Kind regards
Esther van Zyl
Kingdom Kids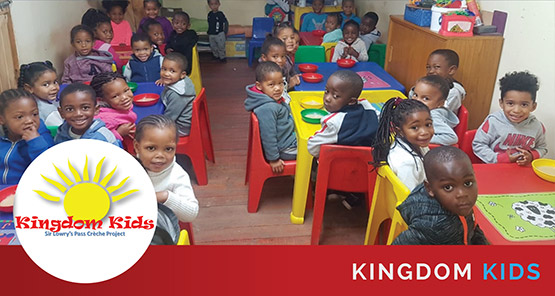 The Kingdom Kids Crèche, situated in Sir Lowry's Pass, has been one of D4D's beneficiaries since 2016.
Kingdom Kids opened its doors in 2009 with two students; currently the school is bursting at its seams with over 80 children attending daily. They cater for a variety of ages, ranging from a baby of a month old to the young kids, aged 5, in Grade RR.
There are six teachers, whom are all volunteers, giving their time, dedication and affection, which stems from a deep passion for the children, their well-being and their futures. This group of women makes a tangible difference in their community. The school has no security in relying on school fees, since numerous parents fail to fulfill this obligation. Resulting from this fact, are several fundraisers throughout the year to generate extra income and keep the doors of Kingdom Kids open.
D4D assisted the school in the process of applying to receive disposable/waste food from a local supermarket. This application was approved and Kingdom Kids is now successfully one of the organizations receiving food from the store. D4D continues to support this project by donating R1,000 monthly, which covers the transporting cost of collecting the food from the supermarket. They collect waste/ "expired" food three times a week, thereafter recycling that which is still usable. With the assistance of this food, they are able to cook healthy meals for the students of Kingdom Kids. Much too often this is the only meal a child would receive for the entire day. Subsequently this project has been a major blessing to Kingdom Kids.
In December of 2019, D4D surprised the little ones with a party, giving each a small gift and cupcake. The joy and excitement on their beaming, smiling faces was unequivocally priceless. With healthy, nutritious meals being a scarcity outside the school, a gift and cupcake are all the more so. We are so thankful to share in their delight and have these little kids remind us to find joy in the smallest, simplest things.
HELP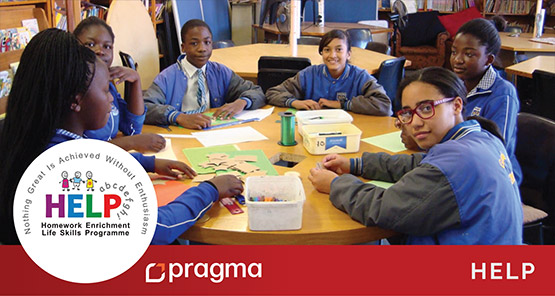 Homework Enrichment Life Skills Program is dedicated to instilling children with confidence, respect for themselves and others, and building up their self-esteem through a program that takes initiative in combatting illiteracy and improving numeracy.
Amongst others, manners such as; greeting upon arrival, saying "please" and "thank you," eating with their mouths closed, using a tissue, and not screeching and screaming when communicating, are examples of the life skills that these children are acquiring when partaking in the HELP program.
To many of us this sounds like such fundamental conduct to possess, second nature, if you will, but the children who those at HELP work with, have a tragic history.
When dealing with several charities, certain vocab becomes more familiar, over time it may lose some of its initial shock value, but may the absolute terror and tremble never leave us when we hear the stories of these children.
Their history often sounds something like this; sexual and/or mental abuse, abandonment syndrome, fetal alcohol syndrome, severe anger management issues, drug abuse, pure parental neglect, in addition to recurrent cases of dyslexia, ADHD, HIV Aids and TB.
HELP has achieved tremendous success, and continues to do so, both academically speaking, and with their Life Skills Program. The stable environment and safe haven they offer to these children, is the only stability these children know.
D4D strongly believes in, encourages and support the work they do at HELP.
In supporting their vision to provide quality education to their learners, D4D partnered with Pragma, a local engineering company, who are field leaders in the industry of enterprise asset management. In 2019 a total of R68,000 was contributed to the HELP program. This specific sponsorship was allocated towards the salary of a qualified educator.
Hagar's Choice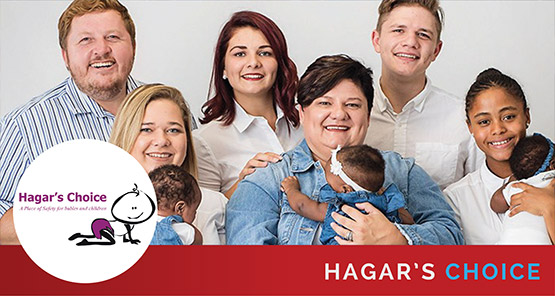 Hagar's Choice is a family-run safe home, which meets the immediate needs of babies and young ones, by way of, most importantly, motherly love and thereafter physical needs.
They welcome children at risk and babies awaiting adoption into their home, while working alongside the social workers, searching for the best opportunities and futures for the little ones in their care.
This safe house is run by the Campher family. Better than most, they know exactly what it feels like to have nothing, no place to call home. Their own story testifies of how they lost everything, their house, car, furniture etc. and how in the midst of all God took care of them, provided and helped them through it. Now, they are equipped to help others that have no place to call home, no family to provide. They step in and take up that responsibility, providing a temporary place of safety, security and whatsoever need presents itself, till adoptive parents and forever homes are found.
D4D bought an oval bassinet for Hagar's Choice's nursery room, in February 2019. This particular bassinet is ergonomically designed to provide new born babies with maximum comfort, rest and sleep. Fixed with a middle tray with ample space for all the necessary fittings for newborns, makes this crib ideal. Made of transparent acrylic shell, the crib itself, keeps the baby inside snug and safe.
With the completion of the MATH fundraiser, D4D inquired after the Campher family to identify a specific need within their household at that time. They indicated that the use of an industrial tumble dryer would relieve them from the nightmare of trying to get the babies' bedding, clothes and blankets dry during the winter months. This request was approved, and R13,450 of the MATH funds raised was allocated towards the purchase of a 10kg Speed Queen tumble dryer for Hagar's Choice.
Where possible, D4D strives to address specific needs, which then gives us the peace of mind that the donation makes a real, immediate, tangible difference.
Die Burger-Kinderfonds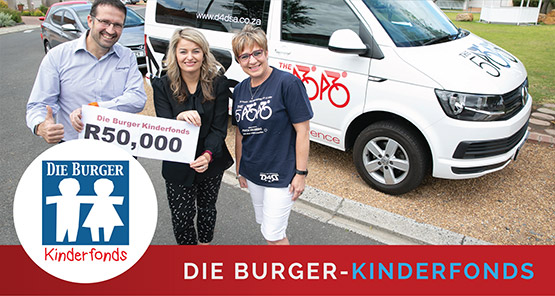 Die Burger-Kinderfonds is a non-profit organization founded in 1957. Its principal purpose is to quench the educational needs of underprivileged children and promote leadership development of the youth, moreover supporting other organizations working with underprivileged children and their communities. To give an example these organizations would include amongst others; the ACVV, Badisa and the Western Cape Education Department.
For the past 6 decades, Die Burger-Kinderfonds has been enriching children's lives by means of educational tours to Cape Town.
In 2019 the focus of this non-profit shifted, as a result of the Die Burger-Strandhuis being sold. The charity now directly invests into the lives of the disadvantaged youth in surrounding communities. Their official focus revolves around getting children who has suffered trauma the necessary, adequate, and proper counselling and therapy, alongside the help of ACVV and Badisa.
The word trauma might refer, amongst others, to; molestation, domestic violence, marriage and relationship conflict between parents or guardians where children are miss-used, and the exploitation of children in forcing them to do work not suited for children their age, such as begging. This also includes children who don't have a safe, trustworthy and loving parent to come home to. Additionally, this covers instances in which children's elementary needs of food, safety etc. aren't being met.
D4D made a donation of R50,000 to Die Burger-Kinderfonds in December of 2019. This donation will contribute towards subsidizing the work they continually do in helping the less fortunate children of the Western Cape.
PATCH Helderberg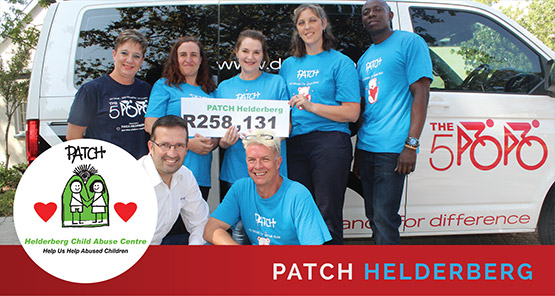 PATCH is the provider of a comprehensive, integral set of services to the survivors of child sexual abuse. Their response includes the initial assessment, therapeutic interventions, and court preparation, together with a 24-hour crisis line. An extremely skilled, qualified team of registered social workers and social auxiliary workers are dedicated to providing these services. PATCH is the only organization in the immediate Helderberg area of Cape Town, South Africa that specializes in the treatment, along with, the prevention of child sexual abuse. PATCH's heart is to help all survivors to find hope and healing, and this is what they strive towards 24/7, 365 days a year. PATCH Helderberg takes great pride in the fact that local communities in which they operate have now embraced them in such a way that, the police, schools, parents, clinics, and welfare agencies refer all reported and disclosed cases of child sexual abuse to their organization.
Dedicated, caring, voluntary crisis workers endeavor to offer emotional support after a child has disclosed their case of abuse. These crisis workers are on call all through the night, weekends and still so on public holidays. This is vitally important, as PATCH renders a 24-hour crisis service to survivors of child sexual abuse.
D4D and PATCH have been walking a path together since the inception of THE500 in 2013. PATCH Helderberg has been the main beneficiary of THE500, for all four past events.
THE500, which is held bi-annually, was again hosted in 2019. We are thankful to report that it was once again a tremendous success. The Lord's hand was over the entire event and at the end of it all a staggering amount of R610,936 was raised. Once expenses (R44,672) were paid, and the aforementioned R50,000 was donated to Die Burger-Kinderfonds, PATCH received 50 % of the remaining funds raised (R258,131). It is a true blessing to make a difference in this way.
In June 2020, PATCH also received a donation of R5,000, as one of the beneficiaries of the MATH fundraiser.
Statistics and the number of child sexual abuse cases in the surrounding Helderberg basin, is absolutely staggering. With these numbers keeping us motivated, while praying for its decline, we will endure and spare no effort, to make a difference where the need is infinite.
Little Angels Home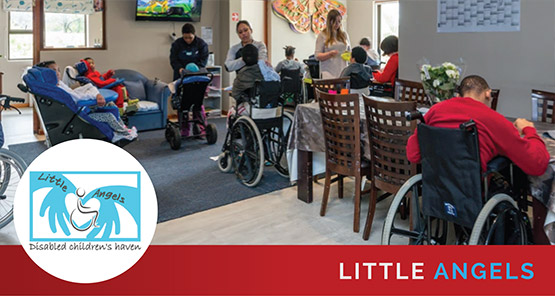 Little Angels Home, situated in Somerset West, is a full-time, community-based care facility for children with special needs.
The staff is dedicated with regards to empowering and encouraging their Little Angels. They strive to help the children in developing to their full potential by improving their, be it, physical and/or mental performance and capabilities.
Thus, they are enabling these kids to enjoy a better quality of life. In providing a safe haven for the children and ensuring that they receive the correct and proper medication, treatment and special care, they are rendering a service that the parents can often times not supply themselves.
Currently, 17 children permanently reside at the house, with ages varying from 3 to 23 years old. Little to none time needs to be spent with these Little Angels to enjoy their flourishing personalities and for them to steal your heart. Each individual is extremely special and dear to all of the employees. There is nothing greater to bestow upon these children than unconditional tender, love and care, which is what these individuals set out to do every single day.
Little Angels was another one of the MATH fundraiser beneficiaries, with a donation of R5,000 being made in June of 2020.
Heartlands Baby Sanctuary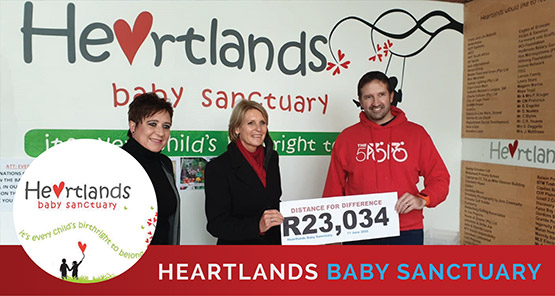 Heartlands, is both a registered Child and Youth Care Centre, and a Community Mental Health Facility, located in Old Paardevlei Road, Somerset West. Orphaned and vulnerable children (OVC), from birth to the age of six, receive holistic care, provided by the center.
At any given time, Heartlands may care for anywhere between 20 to 25 children. By means of a court order the children are temporarily placed at Heartlands, till they are either reunited with their parents, placed in foster care or adopted. In certain rare circumstances a child may be placed at another institution, specifically in cases where long term care is required.
In the midst of the Level 5, Covid-19 Pandemic Lockdown, in South Africa, Heartlands was featured on SABC, national news and several other social media platforms. It was through one of these reports that D4D became aware of their desperate cry for funding, in order to prevent them from having to permanently close their doors. It was then decided and announced that Heartlands Baby Sanctuary would be the main beneficiary for the MATH fundraiser.
At the end of it all, with the successful completion of the MATH fundraiser, a total of R23,034 was donated to Heartlands. This donation, along with those of other charities and individuals, carried Heartlands through the worst of the Lockdown and secured them to continue the incredible work they do, at least for the foreseeable future!
Herberg Children's Home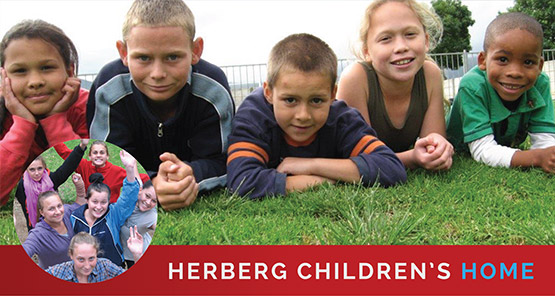 Herberg Children's Home has been around for 102 years, taking on many different forms.
During the flu epidemic, in late 1918, orphans were cared for in an ordinary home, which was replaced by the Old Herberg in 1980. Today the Old Herberg is a block of flats.
Currently Herberg Children's Home house 122 boys and girls, throughout 7 housing units. The little ones, ages ranging from birth to six years old are cared for in the pre-school section.
The remaining children, between ages 6 to 18, thus those children who are of school going age, are cared for in the dedicated units for their age group.
Covid-19 has been a strenuous time for us all, but it has also been extremely hard for the children who were not able to be placed with family or holiday parents during these uncertain and traumatic times.
The Herberg Children's Home also suffered a loss of income, due to several donations falling through and faced immediate financial deficits. Hoping to support them in pulling through this grueling lockdown period, D4D donated a once off amount of R3,500.
The Spencer Family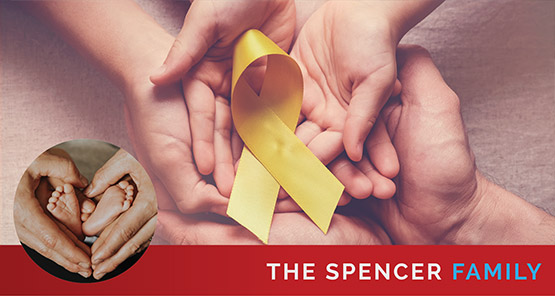 A family in desperate need of financial assistance, in order to pay the medical bills for their daughter's cancer treatment, was brought to our attention, by acquaintances of D4D. We then proceeded to donate R1,000. Our prayers continue to be with the Spencer family.